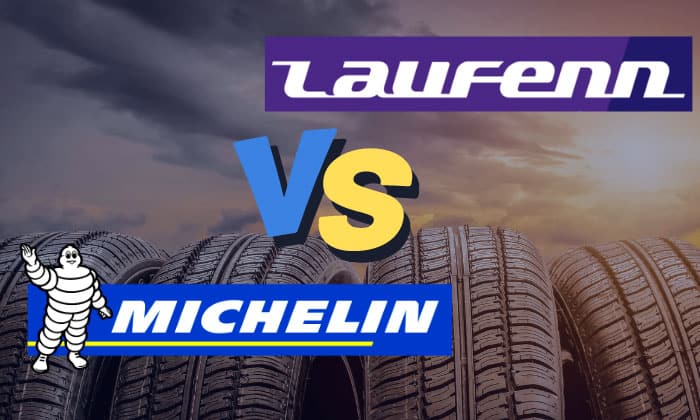 Price-conscious consumers are always on the hunt for quality but budget-friendly tires in forums like Reddit. That is why we went ahead and inspected Laufenn tires vs Michelin.
Laufenn tires may not match the vast tire selection of the century-long expertise of Michelin in balancing comfort, performance, and longevity. Still, the Hankook sub-brand can provide reliable performance in dry and snowy conditions with moderate comfort, wear life, and road noise at half of Michelin's price tag.
| | | |
| --- | --- | --- |
| Factors | Laufenn | Michelin |
| Dry | Above average | Winner |
| Wet | Average | Winner |
| Snow | Average | Winner |
| Comfort/ Ride Quality | Comparable | Winner |
| Noise | Comparable | Winner |
| Price | Winner | Expensive |
| Mileage Warranty | Competitive | Winner |
What Are They?
1. Laufenn tires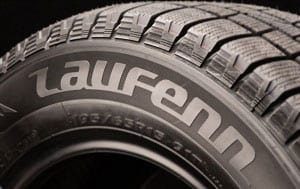 Laufenn was named after the German verb "laufen," which means "to run." The brand was developed by South Korean tire maker, Hankook, to provide budget-conscious consumers with practical tires.
Different types of Laufenn tires
Currently, Laufenn has 9 tire models:
5 tire designs for passenger cars (2 all-season tires and 3 summer tires)
3 all-season tires for SUVs, vans, and light trucks
1 winter tire for passenger cars
Laufenn's naming conventions for its tire models are easy to remember:
S Fit for ultra high performance tires
G Fit for touring tires
X Fit for on and off-road tires
I Fit for winter tires
Laufenn distinguishes its designs by adding AS for all-season, EQ for summer, AT for on and off-road, and HT for on-road driving. Laufenn snow tires have "Ice" in their names.
2. Michelin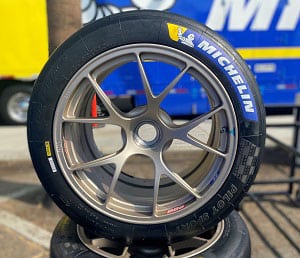 Michelin got its name from its founders, Edouard and Andre Michelin. This company has subsidiary brands composed of BFGoodrich, Kleber, Kormoran, Riken, Taurus, Tigar, and Uniroyal.
Its brand has 51 tire models composed of 26 all-season tires, 18 summer tires, and 7 winter tires suitable for passenger cars, SUVs, light trucks, performance vehicles, and sports cars.
The tires were named after their product families, and Michelin has 9 tire families:
X- Ice – comprises winter tires designed for severe winter conditions
Michelin Crossclimate – provides superior all-season performance and tire longevity even under heavy loads
Michelin Defender – offers the ultimate tread life
Michelin Energy – promises all-season performance with better fuel savings
Michelin Latitude Sport – composed of SUV and truck tire designs for all weather conditions and better gas mileage
Michelin Primacy – Engineered for luxury performance driving
Michelin Pilot – exceptional high-performance tires
Michelin Premier – Designed to provide a safe driving experience even when the tires are worn
Michelin LTX- developed for off-road driving
Related comparisons:
Differences: Michelin vs Laufenn tires
In this section, we will be comparing the two brands' selection for all season tires.
1. Laufenn S FIT AS vs Michelin Latitude Tour ( UHP vs Touring tire)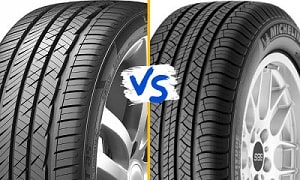 Michelin Latitude Tour is an all-season touring tire, while Laufenn S Fit AS is an all-season ultra high-performance tire.
The Latitude Tour performs better than Laufenn's S Fit AS on wet and dry roads. The Laufenn tire has worse traction on wet surfaces with understeering tendencies, though it has nice handling in dry conditions.
On snow, both models are average, which is expected for all-season tires.
The Latitude Tour gives quiet and smooth rides, while Laufenn's S Fit AS provides comparable comfort and wear life.
2. Laufenn S FIT AS vs Michelin Pilot Sport 4 ( UHP tire vs Performance Summer tire)
This time, if we compare the Laufenn S Fit AS with Michelin Pilot Sport 4, the tires ratings show that the max performance summer tire takes the lead in cornering stability, steering response, and aquaplaning resistance with an average of 5-8% difference. Also, the Laufenn tire lags behind in wet and dry traction.
On the other hand, Laufenn's S Fit AS scored a little higher in comfort, road noise, and tread life than the Pilot Sport 4.
Michelin's Pilot Sport 4 is not designed for snowy conditions, while the Laufenn S Fit AS can handle light snow.
3. Laufenn S Fit AS vs Michelin Pilot Sport All Season 4 (UHP tires)
The Pilot Sport All Season 4 has superior performance in wet, dry, and snowy conditions with minimal road noise. This tire was praised for its superb comfort level, high snow traction, and splendid dry and wet braking ability. Its wear life is 29% longer than rival tires.
In contrast, the S Fit AS is dependable on dry roads with a good level of comfort and road noise. It lacks grip in wet conditions and handles snow-covered areas with below-average traction.
4. Laufenn G Fit AS vs Michelin Crossclimate 2 (Grand Touring Tires)
In this matchup between two grand touring tires, Michelin's Crossclimate 2 beats the G Fit AS in all categories: all-season performance, ride quality, and treadwear.
The Laufenn tire cannot match the excellent grip and handling of the Crossclimate 2 in wet and snowy conditions. It slides easily on wet surfaces, while the Crossclimate 2 can deal with heavy rain and snow.
The Laufenn tire is quiet and comfortable on dry roads but not as reliable as the Crossclimate 2 because the latter delivers short braking distances with precise steering response.
5. Laufenn X Fit AT vs Michelin LTX A/T2 (On/Off-road tires)
Both adventure tires can't provide aggressive off-road driving, but Michelin's LTX A/T2 delivers a more enjoyable ride than the Laufenn X Fit AT because it can tackle hard-packed dirt, loose sand, and gravel with less noise.
Both options are stable on the highway, but the Laufenn tire has noticeable noise as the speed increases.
The LTX A/T2 is commended for its towing capability and good wear life.
6. Warranties
Without a doubt, Michelin is an expert in offering tires with long-lasting mileage. Therefore, it is not surprising that its tires have better brand support (20,000 – 80,000 miles) than Laufenn tires (45,000 – 60,000 miles).
On average, Laufenn tires can last up to 5 years while Michelin tires have extra treadwear for another year.
7. Cost
The tires prices of Laufenn cost almost half of Michelin's starting price.
| | |
| --- | --- |
| Tires | Price range |
| Laufenn S Fit AS | $90-$150 |
| Laufenn G Fit AS | $60-$88 |
| Laufenn X Fit AT | $127-$192 |
| Michelin Latitude Tour | $197-$256 |
| Michelin Pilot Sport 4 | $209-$595 |
| Michelin Crossclimate 2 | $148-$420 |
| Michelin LTX A/T2 | $200-$388 |
Pros and cons: Michelin vs Laufenn tires
Laufenn Tires
Affordable
Competitive warranty
Reliable performance in dry roads and light snow
Good comfort and ride quality
Small tire selection
Average grip in wet conditions
Michelin Tires
Offers a wide variety of tire options
Superior all-season performance
Excellent ride quality
Longer tread life
FAQs
How long do Laufenn tires last?
Laufenn's passenger tires offer a treadwear warranty of 45,000 miles or wear life that could last up to 5 years while its SUV and light truck tires have a mileage support of 60,000 miles. The warranty support includes a 30-days trial.
Who are Laufenn tires made by?
Hankook manufactures Laufenn tires. This low-cost brand was launched in the US market in 2014 and was introduced to the European market in 2015.
Is Laufenn a good tire?
Yes, Laufenn is a good tire. For instance, Laufenn's G Fit AS can handle wet and dry roads with good aquaplaning resistance, good wear life, and a high level of comfort.
Where are Laufenn tires made?
Laufenn tires are made in Indonesia. It is a sub-brand of Hankook, and this South Korean tire company set up its production facility in West Java, Indonesia in 2013.
Conclusion
Forum reviews seldom mention who makes Laufenn tires. We hope that through this Laufenn tires vs Michelin comparison, you learned that you may get more than your money's worth in Hankook Laufenn.
For drivers who need dependable tires, mostly for warm weather or daily commute on the highway, Laufenn tires are worth considering.