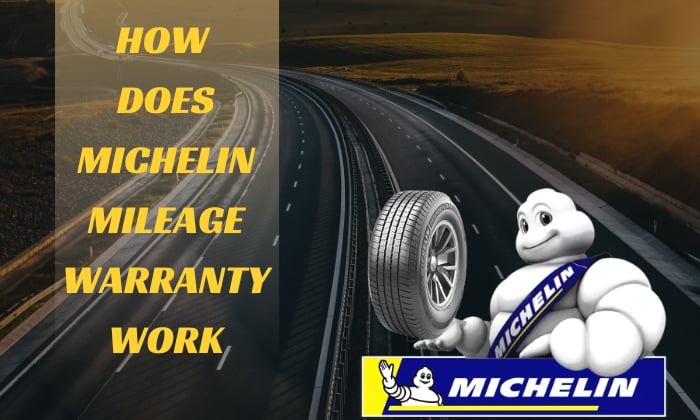 Buying Michelin tires gives you the confidence of driving more than the average miles. You might not care about its warranty package in detail until you need it.
So, how does Michelin mileage warranty work?
Mileage warranty ranges from 20,00o to 80,000 miles. The specific coverage will depend on what tire model you have.
To be eligible for Michelin mileage warranty, one needs to 1) register their tires or mail their tire registration card, ideally upon purchase, 2) bring tires to a registered Michelin dealer, and 3) present the warranty claim form and original sales receipt to the tire dealer for inspection and approval.

Limited Mileage Tread Wear Warranty Conditions
Under this treadwear warranty, replacement depends on the following conditions:
If the original tread was worn down to 2/32nd of an inch or less within 12 months, the user is eligible for free tire replacement, provided that the materials or workmanship is the problem.
If within 12 months of the date of purchase, the tread was worn down more than 2/32nds of an inch, the user must pay for a new tire (the rate will undergo adjustment according to the tires' prices and tread condition).
This warranty does not cover:
Rapid or uneven wear due to mechanical irregularity in the vehicle
Improper repair or maintenance, including not following Michelin recommendations on tire rotation, incorrect tire mounting and balancing
Accidents, fire, tire alteration or vandalism (slashed tires)
DOT Approved Competition tires (Michelin Pilot Sport Cup 2)
Tires intended for commercial use (Michelin Agilis Crossclimate)
Buyers must document the installing and removing of winter tires each season to keep their warranty coverage.
How to Claim Michelin Mileage Warranty?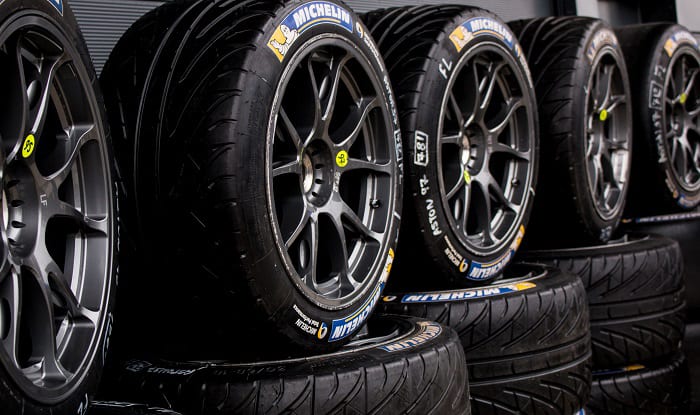 To enjoy the Michelin mileage warranty, here are essential things you should remember:
Register your tires at michelinman.com/auto/registertires or mail your tire registration card ideally upon purchase.
Bring your tires to a registered Michelin dealer.
Present your warranty claim form, together with the original sales invoice to the tire dealer for inspection and approval.
Warranties can be claimed for dissatisfaction with tire performance within 60 days of purchase, flat tire incidents within 3 years from date of purchase, and manufacturing defects, etc.
Additional charges may apply and are determined by the retailer if not covered by the Michelin tire warranty.
What is the Michelin Warranty?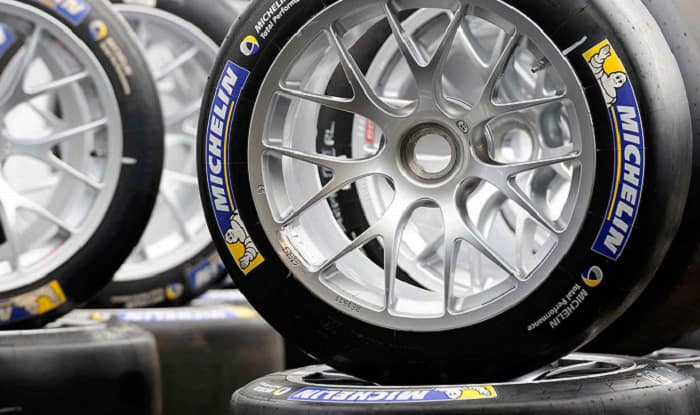 Michelin warranty, also known as the Michelin Promise Plan, is a guarantee package for replacement tires of passenger cars and light trucks.
This benefit plan features the following tread life support services:
1. 60-Day satisfaction guarantee
Michelin's strongest feature is customer satisfaction. The French tire maker provides customers the advantage of using their newly purchased tires for a test period of two months.
If the customer's expectations were not met, Michelin offers to exchange their newly bought tires with a new set that may have equal or lesser value.
To claim this replacement benefit, customers must present the original sales receipt to an authorized Michelin tire dealer within 60 days from the purchase date.
2. 3-Year flat tire changing assistance
Michelin knows that drivers struggle to get flat tire assistance or tire blowout help on the road.
That's why they offer a generous three year support for drivers needing:
Flat tire changing assistance
Fluid delivery, not limited to gas and water ( the driver must pay the cost of the fluid itself)
Lockout service
Battery jump start
If drivers don't have a spare tire, Michelin will help them get back on the road by providing a towing service. The vehicle will be brought to the nearest accredited Michelin retailer free of charge, as long as the distance doesn't exceed 150 miles.
However, note that roadside assistance does not include tire repair.
This Michelin road hazard warranty is available 24 hours a day in the US and Canada. Drivers can enjoy it by calling the Michelin roadside assistance hotline (1-888-553-4327).
Aside from having a tire warranty phone number, Michelin also has a customer service hotline — 1-866-866-6605.
3. Tread Life/Mileage Warranty
Michelin extends their tire's mileage promise by providing warranties for original equipment tires (limited to 2011- 2017 tire models) and replacement tires for passenger cars and light trucks. You can check the model you use for info on treadwear coverage.
Below is the information for some Michelin tires.
| | |
| --- | --- |
| Tire Line | Range in Miles (Limited Warranty) |
| Summer tires | 20,000- 50,000 |
| Winter tires | 25,000 to 40,000 |
| All-season tires | 20,000 to 80,000 |
For example, the Pilot Sport 3 and 4 are covered up to 20,000 miles while the Pilot Sport 4 S can go as far as 30,000 miles (all are summer tires).
For the winter line, the Latitude Alpin and Latitude Alpin LA2 have the lowest tread warranty while the X Ice Snow, X Ice I3, and Latitude X Ice Xi2 stay strong at 40,000 miles.
On the other hand, Michelin's Defender T+H and X Tour A/S lead the warranty ranking at 80,000 miles.
The Defender warranty is the longest among Michelin tires. Based on Consumer Reports, the Defender mileage warranty can go as high as 90,000 miles.
4. Standard Limited Warranty
This traditional warranty from the manufacturer applies only when manufacturing defects are identified.
For example, tires at risk for blowouts are announced for tire recalls. This is why tire registration is important. If you received a defective product, you can notify the brand and get new tires.
Does this warranty cover nails? Well, nails are not a manufacturing defect, so no.
Conclusion
If you don't know how does Michelin Mileage warranty work, claiming its benefits may seem intimidating at first. Hopefully, the information here helped you in this aspect.
Overall, Michelin offers the strongest mileage warranty in the market; at the same time, the brand backs it up with an assistance package that truly supports drivers in times of need.