Firestone tires brands, just like Michelin tires, have an all-season lineup that provides optimal performance in different weather conditions. Both use innovative technology to maintain a comfortable and safe ride quality.
To jump straight into several all-season tire options under these two great brands, let's compare the Firestone WeatherGrip vs Michelin CrossClimate 2. These two have indeed interesting yet purposeful features, as their tire type suggests.
Is WeatherGrip under Firestone tires good or bad? What about the CrossClimate 2 tires? Let's find out.
Comparison Table
| | | |
| --- | --- | --- |
| Attributes | Firestone WeatherGrip | Michelin CrossClimate 2 |
| Diameter | 23.7"-29.6" | 24.9"-32.1" |
| Width | 7.9"-9.7" | 8.2"-11.4" |
| Measured Rim | 5"-8.5" | 6"-9.5" |
| Rim Range | 5-9.5" | 5.5-11″ |
| Tread Depth | 10/32″ | 9.5/32″-10/32″ |
| Load Range | SL-XL | SL-XL |
| Weight | 18-29 lbs. | 21-36 lbs. |
| Max Load | 1047-2094 lbs. | 1356-2601 lbs |
| Max PSI | 44-51 psi | 50-51 psi |
| Revs/mile | 693-879 | 648-844 |
Firestone Weathergrip?
Firestone is one of the successful tire companies across different countries. But who makes Firestone tires? And where are Firestone tires made in the first place?
It all started in Akron, Ohio, United States, in August 1900, when Harvey Firestone began manufacturing tires and named them after his surname. Ever since that year up until now, Firestone quickly built its name in the tire industry internationally.
Currently, Firestone is under Bridgestone, so all of its tires are now made not just within the US, but also in Japan and other countries around the globe.
WeatherGrip is a new inclusion to Firestone's collection of extraordinary tire products. It is a result of Firestone's attempt to produce an ideal all-season tire that can rival other tire giants and offer similar outstanding features in different weather conditions.
You can have this tire in 15-inch to 19-inch wheel diameter.
WeatherGrip also has a 3PMSF (Three-Peak Mountain Snowflake) symbol. This guarantees its maintained functionality mainly in snow conditions. Plus, WeatherGrip has a treadwear warranty of up to 65,000 miles.
More of its impressive features will be discussed further in the following sections.
Michelin CrossClimate 2
CrossClimate 2 is originally an upgrade of its predecessor, the CrossClimate+, in terms of comfort, rolling resistance, and traction in all weather conditions.
In general, its size range comes at 16-inch to 20-inch wheel diameter. Plus, it has industry-standard wear bars that tell you when you must replace your tire.
And just like the WeatherGrip, this tire has a three-peak mountain snowflake (3PMSF) symbol. This signifies that it is an excellent tire with good performance in snow conditions.
In addition, its tread has an innovative thermal technology that ensures heat will be distributed evenly. Plus, its V-ramp chamfers allow for ground contact that make driving performance better.
It also has low rolling resistance which promotes high gas mileage.
But how does it differ from Firestone's all-season tire? Explore more of its significant features below.
Differences
For a more in-depth tire brand comparison of these two high-quality all-season options, let's cover the features of the WeatherGrip and CrossClimate 2 in terms of their handling, dry, wet, snow, and comfort ratings.
1. Handling
WeatherGrip seems more like a winter tire than an all-season tire, so it falls short in steering reactivity. Meanwhile, the CrossClimate 2 is more sensitive to the driver's control input.
Therefore, WeatherGrip Firestone tires rating is inferior in terms of handling to the Michelin CrossClimate 2.
2. Dry
On dry roads, the WeatherGrip and CrossClimate 2 both function very well.
With Firestone's WeatherGrip, its chamfered construction enhances braking distances without sliding.
On the other hand, the CrossClimate 2 also maximizes its longitudinal and lateral traction in addition to having remarkably short braking distances, thanks to its V-line tread pattern. Moreover, because of its 3D self-locking sipes, this tire delivers stability too when used on dry roads.
Overall, the Crossclimate 2 performs better in this aspect.
3. Wet
The WeatherGrip employs hydroplaning resistance technology to drain water out of the tread in order to address the issue of driving through minor pools of water on the road. As a result, even on slippery surfaces, strong braking, traction, and cornering performance can be maintained.
Then comes the CrossClimate 2, which also makes use of hydroplaning resistance technology. It has big sipes and steep tread patterns to improve its high-speed cornering, braking, and traction ability, particularly in times of intense rainfall.
The Michelin tire has a slight edge on wet roads, though not by much.
4. Snow
To provide a safe and secure grip throughout the winter season, Firestone WeatherGrip incorporates a Snow Traction Claw technology that was developed in conjunction with the TractionTech Package.
In comparison, the CrossClimate 2 has a thermal-adaptive rubber, which is useful for handling, grip, and rapid driving in ice and snowy conditions.
You can expect both options to perform well in light snow.
5. Comfort
Firestone proves its expertise in producing tires that offer a comfortable ride. This is demonstrated by the WeatherGrip model, which guarantees a pleasant ride inside the car with no jarring vibrations. But it creates some tire noise at high speeds while cornering.
Meanwhile, Michelin says that the CrossClimate 2 won't generate too much noise that causes distraction when driving. Yet, the tire's construction results in some rough ride quality over potholes.
6. Pros and Cons
In this section, let's review the advantages and disadvantages of the features of Michelin vs Firestone tires, specifically the WeatherGrip and the CrossClimate 2.
Firestone WeatherGrip
Good grip and steering control in dry, wet, and icy environments
Has a longer period of tire warranty (65,000 miles vs 60,000 miles)
Functional on bumpy roads
Its grooves don't affect its traction performance.
Outstanding high-speed performance and short braking distances on snow
Long-lasting tire
More affordable than its rivals
Minor flaws in reactivity and noise
Michelin CrossClimate 25
Its tread pattern does not trigger tire noises.
Adaptive in rainy and snowy roads
Outstanding reactivity and handling
Great lateral traction and short braking distances in dry and wet conditions
Shorter period of tire warranty
Not budget-friendly
7. Cost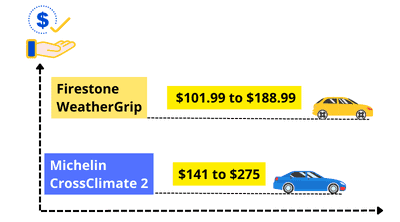 WeatherGrip is one of the affordable Firestone tires but still offers fantastic performance. To be specific, its price in the general market ranges between $101.99 to $188.99.
On the other hand, the CrossClimate 2 is available at a higher cost, since Michelin is already known to have premium tires that also come with a premium price. This tire costs around $141 to $275.
The prices differ depending on the size you are purchasing. But no matter what, the cheap Firestone tires, which is the WeatherGrip, still wins against the CrossClimate 2 in terms of affordability.
Conclusion
Comparison between Firestone WeatherGrip vs Michelin CrossClimate 2 is indeed a tough one. Take advantage of one of these two, and drivers won't look back for sure.
If you're a long-time fan of Michelin and prefer a quieter tire, maybe the CrossClimate 2 is a better tire option for you. But if you want a cheaper model that still offers smooth ride quality, then the WeatherGrip is a wise purchase.
Always remember that no matter how premium a tire is, it will never be a flawless tire. You have plenty of time to decide, so don't rush yourself.
Related: