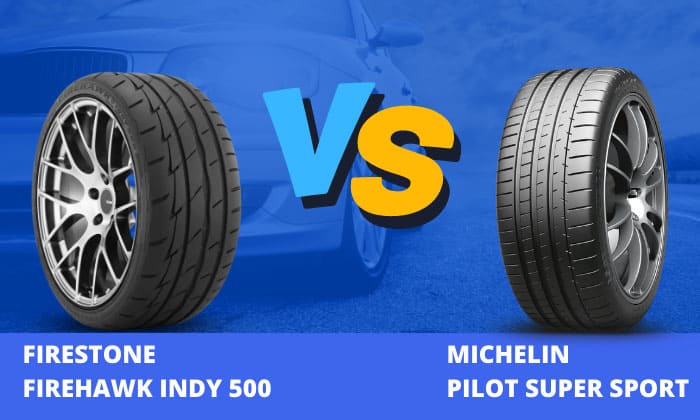 Speed has, and always will be, the pinnacle of cars. From roaring engines and swift aerodynamics to the driver, all significantly contribute to speed. However, one underrated factor of equal importance is a car's tires—specifically, max performance tires.
So today, we'll explore two max-performance summer tires from Michelin vs Firestone and determine which will reign supreme on the tarmac. Firestone Firehawk Indy 500 vs Michelin Pilot Super Sport, which is better?
Let's see how these tires compare.
| | | |
| --- | --- | --- |
| Tire | | |
| Brand | Firestone | Michelin |
| Tire Type | Ultra-high performance summer | Max performance summer |
| 3PMSF | None | None |
| Tested Size | 255/40R18 | 255/40ZR18 |
| UTQG | 340 A A | 300 AA A |
| Tread Depth | 10/32″ | 9.5/32″ |
| Section Width | 10.2″ | 10.2″ |
| Rim Range | 8.5-10″ | 8.5-10″ |
| Max Inflation Pressure | 50 psi | 51 psi |
| Max Load | 1,709 lbs | 1,709 lbs |
| Revs/Mile | 801 | 799 |
| Tire Weight | 27 lbs | 23 lbs |
| Price | $247.99 | $273.63 |
What Are They?
1. Firestone Firehawk Indy 500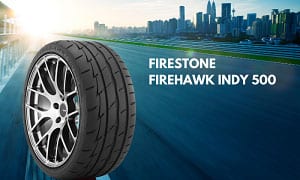 Just by the name itself, racing enthusiasts can recognize this tire immediately. As the official tire for the coveted racing event, the Indianapolis 500, the Firestone Firehawk Indy 500 is a superb tire built for speed and maximum performance.
When crafting this racing tire, Firestone ensured that the Firehawk Indy 500 came equipped with advanced technologies and enhancements to allow it to perform at a high level. These include wider shoulders for optimal cornering and a specialized rubber compound for traction.
It has an asymmetric tread design with three circumferential grooves: two for ensuring grip on wet surfaces and a wave-like center tread with Pulse Groove technology, effectively improving hydroplaning resistance by allowing water to pass through and eject it efficiently.
It also has a decent UTQG rating of 340-A-A. This means that the tire can withstand intense heat generated from speeds as high as over 115 miles per hour and high g-forces. However, the Firestone Indy 500 treadwear rating is only 340, which is fairly average.
Now, onto the Michelin Pilot Super Sport.
Related comparisons about Firestone tire:
2. Michelin Pilot Super Sport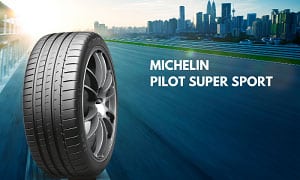 The Pilot Super Sport or PSS tires are Michelin's premier summer performance tire. And like all summer tires, Michelin heavily emphasized grip and handling with this one.
It's also built for speed as it's currently the OEM for sports cars for brands like Ferrari, Lamborghini, Porsche, Mercedes, and BMW.
And with Michelin, expect cutting-edge technologies with this one. For instance, the tire's Variable Contact Patch 2.0 gives it unsurpassed maneuverability on any road condition, excluding snow, while high-density fiber Twaron Belt equally distributes forces for a more balanced feel.
Whether it's the open road or the race track, the Michelin Pilot Super Sport rain adaptable elastomers penetrate water molecules effectively to ensure grip. Meanwhile, Bi-compound Technology ensures superb cornering capabilities.
With a UTQG rating of 300 AA A, expect top-of-the-line traction and temperature control with the Michelin Pilot Super Sport. However, with a grade of 300, it's slightly worse than the Firestone Firehawk Indy 500 mileage rating.
Now, let's see how it fares with the Firestone Firehawk Indy 500 comparison wise.
Differences
For differences, we utilized personal results and considered some inputs from auto forums on Reddit.
1. Wet Performance
Right off the bat, you won't be disappointed with the performance of both tires. However, the adaptable elastomers from the Michelin Pilot Super Sport give it a slight edge over the Firehawk Indy 500, but only by a little.
The Pilot Super Sport had noticeably better traction and aquaplaning resistance than the Firestone Firehawk Indy 500, which was very surprising considering Firestone had dedicated grooves for this, its Pulse Groove technology.
2. Dry Performance
For dry performance, these Michelin and Firestone summer tires are among the best in the business. As dedicated racing tires, expect superb dry performance across all boards. Cornering felt smooth and tight, while traction and general maneuverability were superb.
You can't go wrong with any of these tires if you're looking to shred some rubber on the racetrack or on the open road on a sunny day.
3. Snow Performance
Since these tires aren't all-season, expect poor performance in snow. However, these are expected for summer tires, so keep a nice spare of winter tires when you're expecting inclement snowy weather conditions.
4. Comfort and Noise Reduction
Although summer tires have excellent grip and handling, these feature come at a relative cost—comfort. While this won't bother you on the racetrack due to roaring engines, it can get very noticeable during casual rides.
By all means, both tires aren't terrible at containing noise, but if it's a primary concern, it's probably best to invest in touring tires, which are much smoother than summer tires.
5. Price and Warranty
When it comes to price, the Firestone Firehawk Indy 500 is a much cheaper option. A 255/40R18 sized Firehawk Indy 500 can set you back at around $247.99, while a Michelin Pilot Super Sport has a steeper price point at $273.63.
While an Indy car tire cost is more manageable, it's not exactly the best economical choice. That's because there isn't a mileage warranty for all Firestone Indy 500 sizes and speed ratings. Meanwhile, the Michelin Pilot Super Sport has a short 30,000-mile warranty.
However, if your new Firehawk Indy 500 tire has a manufacturing defect, Firestone offers a 5-year service and materials coverage, with a free replacement for the first 3 years. After that, the tire will be prorated based on the remaining tread depth until it reaches 2/32″.
Pros and Cons
Firestone Firehawk Indy 500
Excellent wet and dry performance
Cheaper
No mileage warranty
Poor snow performance (expected)
Michelin Pilot Super Sport
Excellent wet and dry performance
30,000-mile mileage warranty
More expensive
Poor snow performance (expected)
FAQs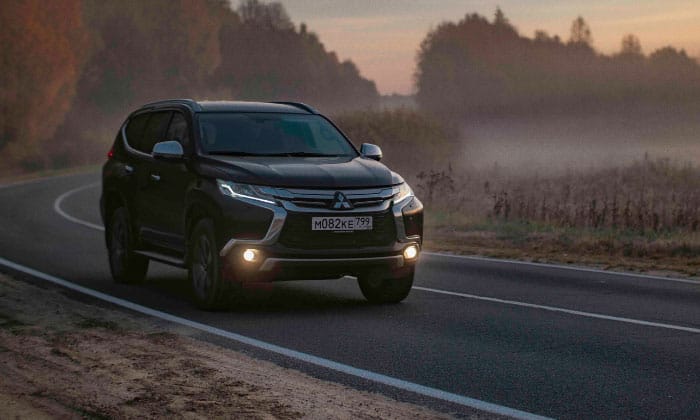 Which is better: Firehawk Indy 500 vs Pilot Sport 4S?
Both are summer tires, so they pretty much function the same way, providing outstanding wet and dry performance. However, the Michelin Pilot Sport 4S is better in almost all categories, from wet and dry traction to comfort to even treadwear.
Does a Michelin Pilot Super Sport run flat?
Yes and no. Regular Pilot Super Sport tires don't have run-flat capabilities. However, its other variant, which is ZP (Zero Pressure) rated, lets you drive much farther with a flat tire.
Conclusion
I hope we've shed some light on which summer tire is better in this Firestone Firehawk Indy 500 vs Michelin Pilot Super Sport comparison. In a nutshell, both tires are simply the best at what they do concerning traction and maneuverability.
So it all comes down to price and warranty. Remember that the Firestone Firehawk Indy 500 is cheaper, but it doesn't have a mileage warranty. Meanwhile, the Michelin Super Sport is more expensive but makes up for it with a 30,000-mileage guarantee. The choice is yours.