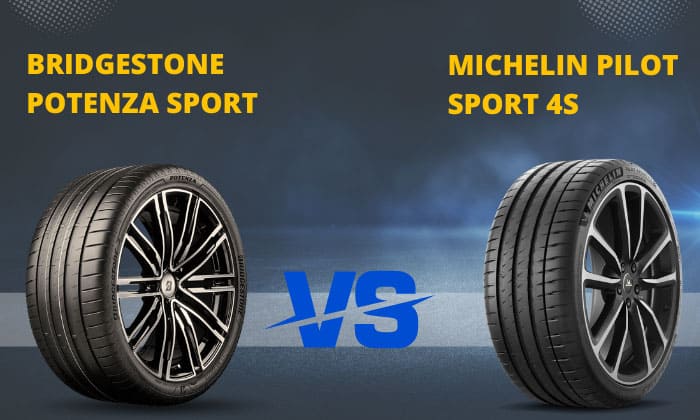 Both Bridgestone and Michelin surprised us with their outstanding tire products for decades. These two brands are pretty identical, too, with the extra performance features they offered us.
The two companies have the best tires in many categories. In terms of performance summer tires, Bridgestone has the Potenza Sport tires while Michelin has its very own Pilot Sport line.
For this article, we will analyze in detail which of these two contenders is preferable. Bridgestone Potenza Sport vs Michelin Pilot Sport 4s: let's get it on!
| | | |
| --- | --- | --- |
| Attribute | | |
| Brand | Bridgestone | Michelin |
| Size | 235/35 R19 | 235/35 ZR19 |
| Maximum pressure | 50 psi | 50 psi |
| Tire weight | 22 pounds | 22 pounds |
| Tread depth | 8/32″ | 9.5/32″ |
| Maximum load | 1356 pounds | 1356 pounds |
| UTQG | 300 AA A | 300 AA A |
What Are They?
1. Bridgestone Potenza Sport
Bridgestone Potenza Sport is part of a recent release under the Potenza lineup together with the Bridgestone Potenza All Season.
The Potenza Sport and Potenza All Season are two of Bridgestone's most well-known tires.
The latter was created for automobile owners who sought more comfort while driving and a longer tread life from their tires. It is also suited for snowy situations.
The Potenza Sport, on the other hand, was designed for dry and rainy driving, featuring dynamic steering at high speeds.
For now, let's focus more on the characteristics of the Potenza Sport.
Uninterrupted Circumferential Ribs – designed to provide hydroplaning resistance in wet climates.
Next-generation Tread Compound – promotes incredible grip and reactive steering even in extreme driving conditions.
Tuned Tread Block Sequencing – reduces pattern noise for a quieter, more pleasant ride.
2. Michelin Pilot Sport 4S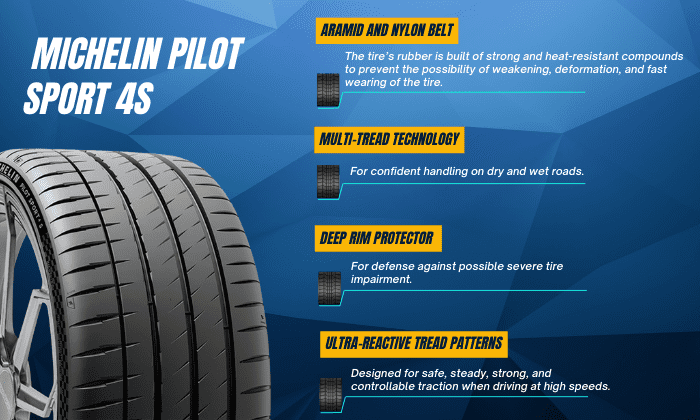 Michelin Pilot Sport is one of the famous tire lines of Michelin when it comes to cars that come equipped for fast driving. One of the most favorite tires under this lineup is the Sport 4s that can be easily confused with its predecessor, the Michelin Pilot Sport 4.
When comparing the Michelin Pilot Sport 4 vs 4S, it is indeed not debatable that the PS4S is relatively better in traction on dry and wet road surfaces, aquaplaning, and has a longer tread life than its counterpart, the Michelin PS4.
Michelin PS4S has several remarkable features of its own, including:
Aramid and Nylon Belt – the tire's rubber is built of strong and heat-resistant compounds to prevent the possibility of weakening, deformation, and fast wearing of the tire.
Multi-tread technology – for confident handling on dry and wet roads
Deep rim protector – for defense against possible severe tire impairment.
Ultra-reactive tread patterns – designed for safe, steady, strong, and controllable traction when driving at high speeds.
Differences
1. Wet
Bridgestone Potenza Sport has a pattern that is useful in facilitating hydroplaning resistance and ejecting water. It showcases a 120.10 ft wet braking distance from 50mph.
Meanwhile, the Michelin PS4S features a silica compound to provide optimal driving performance even on wet roads. This leads to its wet braking distance of 114.80 ft, which is shorter when stopping from 50 mph compared to the Potenza Sport.
The results imply that Michelin PS4S is the better option for wet climates.
2. Dry
Bridgestone Potenza Sport was produced mainly for driving in dry conditions. It has a braking distance of 80.20 feet at 50 mph.
The Michelin PS4S contains dry-focused rubber as part of its Bi-compound technology to improve dry performance. At 50 mph, its maximum performance on dry surface braking measures approximately 78.10 ft.
Because the Michelin PS4S has a shorter dry braking distance than the Potenza Sport tires, Michelin is the better choice this time.
3. Speed
The next-generation tread compound of the Bridgestone Potenza Sport improves block rigidity, resulting in sensitive steering with a dry handling lap time that is about 30.38 seconds, whereas its wet road lap time is 33.46 seconds.
On the other hand, the Michelin Pilot Sport 4s has a lap time of around 30.08 seconds on dry surfaces and 33.82 seconds of lap time on wet conditions, thanks to its Aramid and nylon belt hybrid that maximizes its high-speed handling. The Pilot Sport 4S has a faster dry handling lap time but is slower in wet handling.
4. Rolling Resistance
Tire rolling resistance is the amount of energy required by your vehicle to keep your tires moving at a constant speed.
In this category, the Potenza Sport's fuel mileage is low, since more gasoline is required with a resistance of 9.47 kg/t.
Meanwhile, the Pilot Sport 4S has a rolling resistance of 8.56 kg/t, making it better in conserving fuel.
5. Comfort and Noise
Bridgestone Potenza Sport provides a unique feature called tuned tread block sequencing with lateral notches. This plays a huge role in its noise rating of 71.7 dB.
However, the Pilot Sport 4S still triumphs with its noise level that is only 70.8 dB. The noise comfort it gives is very satisfying.
6. Durability and Treadwear
These summer tires were both produced with high-quality materials. The Potenza is made of polymer compounds, but the Pilot Sport is made of an Aramid-Nylon hybrid, which is far more durable than the Bridgestone.
The Pilot Sport 4S also comes with a 30,000 miles warranty while the Potenza doesn't have a mileage coverage.
7. Pros and Cons
In this section, let's compare Bridgestone and Michelin tires, specifically the Potenza Sport and Pilot Sport 4s through their advantages and disadvantages.
Bridgestone Potenza Sport
Good wet and dry performance
Quick lap times on wet surfaces
Doesn't make much noise
No mileage warranty
Fuel efficiency could use some improvement.
Michelin Pilot Sport 4s
Superb wet and dry handling and braking
Lower road noise level
Low rolling resistance
Short dry and wet braking distance
Better tread life
Not the fastest on wet surfaces
More expensive
8. Cost
Tire prices vary by size, so it's better to compare their costs using their identical size instead. In our case, the Bridgestone Potenza Sport 235/35R19 starts at $280.99, while the Michelin Pilot Sport 4s 235/35 zr19 comes at $322.99, which is undeniably expensive.
In terms of budget, it is safe to say that Bridgestone Potenza Sport is preferable, since it is cheaper than the Michelin Pilot Sport 4s.
Conclusion
Regarding the battle between Bridgestone Potenza Sport vs Michelin Pilot Sport 4s, the decision is indeed tough as both of these summer tires provide unique performance on their own.
As a summary, Bridgestone's Potenza Sport proves itself with its wet lap time over its competitor. In contrast, Michelin's Pilot Sport 4s maximizes its quality in terms of braking, rolling resistance, noise level, and tread lifespan.
Michelin's Pilot Sport 4s obviously wins in terms of overall performance. But that does not mean that Potenza Sport tires are no longer a good choice, since they're reliable options, especially when you're on a budget.