Atlas Force UHP is one of the remarkable products of Atlas Tires. It falls under the all-season tire category along with Atlas Desperado tires.
Literally, UHP means ultra-high performance, and this name really proves how fantastic the tire is in dealing with both dry and wet weather conditions.
So no chilling wind, wet rains, or hot sunlight can stop you from driving wherever you want to go.
But, are Atlas tires any good in the first place? Read on for a more detailed Atlas Force UHP tire review.
Technical Specs
| | |
| --- | --- |
| Attributes | Atlas Force UHP |
| Category | All Season |
| Size | 195/35R18 79W XL |
| Vehicle | Passenger |
| Load Index | 963 lbs (79) |
| Max Speed | 168 MPH (W) |
| Load Range | Extra (XL) |
| Sidewall | Blackwall |
| Tread depth | 10/32nds |
| Inflation Pressure | 42 PSI |
| Section Width | 7.9″ |
| Overall Diameter | 23.5″ |
| Tread Design | Asymmetrical |
About Atlas Force UHP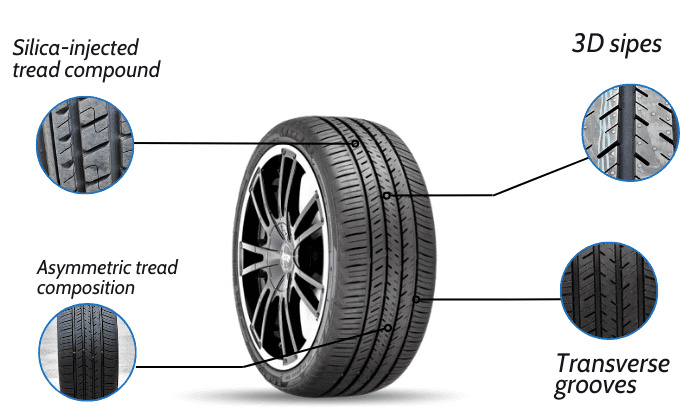 Available in size ranges from 16" to 30", this heat-resistant all-season tire has several hallmarks that surely will amaze you:
Silica-injected tread compound – caters to both dry and wet roads, boosts braking distances and cornering capabilities.
Asymmetric tread composition – for enhanced handling and to lower the possibility of slipping
3D sipes – allows great rolling friction even for icy roads for fast-speed driving steadiness and comfort
Transverse grooves – to maximize cornering and traction performance
History
Started in the 1930's, Atlas tires began manufacturing products with high hopes of becoming popular in the tire market.
The company ensures all of its products are of the best quality possible while using the latest technology.
All Atlas tires have amazingly long periods of tread lifespan. This is made possible by the minds of the engineers behind the next-generation compound that was used to prevent quick tire damage and wear.
Who Makes Atlas Tires?
Atlas tires company was originally founded by Standard Oil Co. But as of now, Linglong Americas Inc., U.S. has ownership of the brand.
Atlas manufacturing sites can be found in China and Thailand, and its products are distributed in the USA and countries around Asia and Europe.
Features
In this section, we will be highlighting the characteristics of the Atlas Force UHP in terms of its dry, wet, snow performance, comfort, and tread wear.
1. Dry
On dry roads, the Atlas Force UHP's traction and cornering function very well, thanks to the tire's responsive nature.
This is great since even during accelerating, these features are still working. Plus, it also has a short stopping distance.
2. Wet
Wet roads are not a hindrance in showcasing the performance of the Atlas Force UHP. In fact, it employs hydroplaning resistance technology to evacuate water out of the tire.
In summary, its grooves and sipes patterns allow efficient driving in wet conditions, while its asymmetric treads provide higher maneuverability.
3. Snow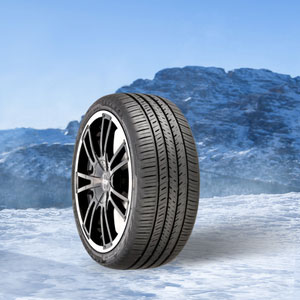 In order to survive and ensure safe driving in harsh freezing conditions, the Atlas Force UHP was manufactured with a high-quality rubber compound.
However, its composition is still mediocre to fight against snow environments. It struggles with its grip even in light snow situations.
4. Comfort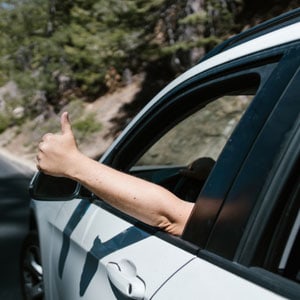 In this segment, the Atlas Force UHP definitely beats the majority of tires from other companies. When it comes to comfort, this tire has an incredibly low noise level and offers a good smooth ride, thanks to its innovative shoulder sipes that reduce the vibration level.
5. Pros and Cons
Let's wrap up the advantages and disadvantages of the Atlas Force UHP, with its consumer reports and tire reviewers around the globe as the basis.
Long warranty period
Budget-friendly compared with its competitors
Short braking distance
Responsive to steering
Low noise level
Smooth ride quality
Great traction in dry and wet conditions
Mediocre traction in snow
6. Price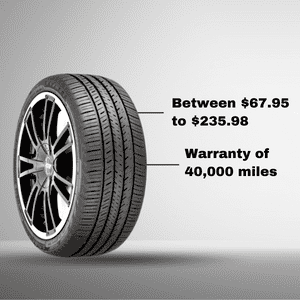 Given all the impressive features of the Atlas Force UHP, we all expect that it comes with an expensive cost. To be more specific, its price ranges between $67.95 to $235.98.
This cost variation depends on the tire size that you will be purchasing. You can check the price right on online shops like Tire Rack.
But don't worry, you can still purchase this tire for a much lower price. Buyers can have it for $49 at its discounted price, but this is only available on limited distributor of Atlas Force tires.
Plus, the Atlas Force UHP has a treadwear warranty of 40,000 miles, which is pretty good for its price.
Are Atlas Tires of Good Quality?
Do you also wonder —are Atlas tires a good brand? Yes, it is. And here are the five reasons why Atlas tires are a good choice.
1. Comfortable Ride Quality
Atlas tires compete with many big companies around the world. So the brand has to find a way to stay competitive. This is through manufacturing tires that offer a smooth ride experience with low noise levels.
All Atlas tires are highly sensitive to steering, even when driving at a fast pace.
2. Impressive Grip
In general, Atlas tires' tread designs are asymmetrical with a shoulder groove pattern. These qualities help a lot to enhance traction and controllability, even off-road.
3. Innovative Technology
Atlas ensures premium and high-quality products by working with professional engineers in developing next-generation technology. This guarantees that all Atlas tires promote longevity by using the best compound formula to limit wear even in the harshest environments.
4. Long Warranty Period
The majority of Atlas tires come with a maximum of 50,000 miles in warranty.
For example, Atlas tires Paraller MT have a 50,000-miles lifetime standard treadwear warranty. Meanwhile, the Atlas Force UHP has 40,000 miles in coverage.
Still, Atlas tires have a decent warranty period compared with other tire brands.
5. Customer Satisfaction
Since 1930, Atlas tires have never failed to deliver satisfaction for vehicle owners, whether it is Atlas truck tires or tires for passenger cars.
So it's no surprise why Atlas tires receive good ratings and are favorable options for buyers on a budget. The qualities of the tires speak for themselves.
What Vehicles Will Atlas Force UHP Tire Fit?
Before purchasing the Atlas Force UHP in a hurry, please know that this tire will not fit all vehicles. This only means that you need to take into consideration the type and brand of car you are driving.
So without further ado, here are some of the few vehicles, listed alphabetically, where Atlas Force UHP is good to go.
Audi A3, A4, A5, Q7
Mazda MPV
BMW 3, 5 Series, X3, X5
Cadillac DTS, XLR
Honda Civic, Accord
Toyota Corolla, Camry, Rav4, GT-86
Jaguar XK
Lexus IS, LS, ES, NX, RX
Lincoln Continental
Ford Focus, Mustang, Mondeo
Mercedes Benz AMG A-Class
Mitsubishi Lancer
Subaru Impreza, Legacy, BRZ
Volvo XC 70
For more vehicle options, you can contact the brand directly or visit the website of Atlas Tires.
Conclusion
That's it for the Atlas Force UHP tire review. Overall, this product is an amazing option for an all-season tire. It is pretty good to use in dry and wet conditions.
The Atlas Force UHP has a low noise level, smooth ride quality, affordable cost, decent warranty period, impressive traction, short braking distance, and sensitive steering.
We hope you got a lot of information with this simple review guide. With this you can compare Atlas tires vs Michelin and other brands' products. Have a safe drive ahead!
To make the best choice for your car, I'd like to recommend you refer to other options. Here are the reviews made for you: